Messages From Our Department
2021 Spring Graduation Ceremony
Join the live stream June 1 at 5pm or watch the recording at a later date. This virtual ceremony celebrates graduates from the College of Arts and Science, Office of the Provost, School of Public Health, School of Environment and Sustainability, and School of Public Policy.
2021 Graduating Students
Interactive Systems Design (B.A.Sc.)
Alexander John Nargang
Alyanna Velasco Rabanal
Brennan Boyd Crooks
Joshua Alexander Hall
Josie Lynn Roden
Leon Complido
Maggie Nichole Johnstone
Qihang Liang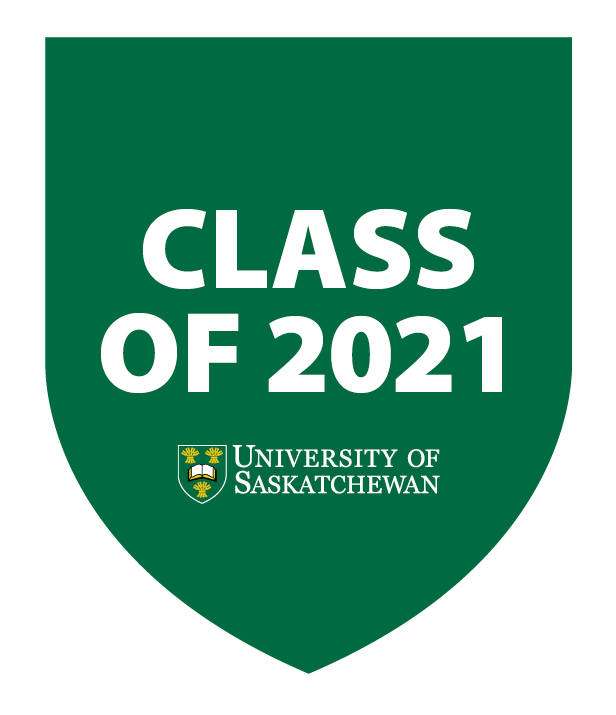 Bioinformatics (B.Sc.)
Aqsa Pasha (Honours)
Simran Punia
Computer Science (B.Sc. Three-Year)
Alavi Sharar Khan
Antoine Joseph Quinlan Labrecque
Calvin Chung
Cara Sloan Remai
Carson James Daly
Christopher Jarrett Elash
Daniel Gregory Olson Peters
Georgi Nikolaev Nikolov
Gurinder Singh Bhangu
JiWei Chen
Kyle David Sader
Liam John Hammond
Marlin James Johnston
Nikhil Parmar
Remington Avery Rohel
Richard Michael Granger
Taylor Matthew Kaye
Tesfa Hope Tewelde
Computer Science (B.Sc. Honours)
Chen Jin
Darby Wade Sauter
Elizabeth Mackenzie Reid
Jared Albert Espenant
Jeremy Nathaniel John Leclerc
Jian Su
Kody Manastyrski
Kyle Christopher Klenk
Linghui Shan
Mahmud Fasih Ul Azam
Matthew Harvey Senick
Peizhe Zhai
Ruiqi Gao
Shu Lyu
Xiaoyan Xu
Zoe Katherine Parker Cates
Computer Science (B.Sc. 4-Year)
Aeysol Frias Rosaldo
Ali Essam Muhamad Shaker Muhamad
Anal Gajjar
Anh Cong My Phan
Antoni Jann Mendoza Palazo
Austin James Cochrane
Auston Minh Tran
Awer Simon Kuir
Benjamin Alan Whittaker
Brett Bill-Gord Melnychuk
Bronson Carter Schultz
Carter Graham Hill
Chad Derek Mckellar
Chunyi Lai
Connie Ding
Connor James Boyle
Daniel Christopher Hammond
Donovan Bailey Lavoie
Emma Frances Warkentin
Eric Redekopp
Erik Arvid Andvaag
Evangellos Alphonse Wiegers
Hee Soo Park
Hongyuan Shi
Jaami Parvez
Jackson Dwain Schuler
Jadyn Rudolf Kimber
Jeffrey Thomas Toppings
Jeremy Michael Epp
Jiawei Zhang
Jiawen Huang
Junming Li
Justin Sicat
Katlin Dickson
Kevin Joel Casey
Landon Zachary Tetreault
Larson James Paul
Liam Dean Bigelow
Lloyd Lindon Clifford
Lucas Joshua Merilees
Martin Thingvold
Mashrafi Haider Iqra
Mason Ross Demerais
Matthew Harvey Senick
Michael Angelo Carreon Adraincem
Mitchell Glen Yellowlees
Mitchell James Petras
Muataz Mahmood Badr Badr
Muhammad Osama Qaiser
Noah Luke Kovacs
Oscar Duran Soliz
Owen Glyn Smallwood
Peiran Zhu
Qin Yu
Raphael Paul Mercier
Ricardo Rheeder
Riley James Loeppky
Robert Adam Stefanyshin
Ruizhe Zhang
Rutvik Jignesh Sanghavi
Ryan Bryson Roman Kostiuk
Ryan Timothy Essery Gray
Sarah Fei Gina Piot
Shubhkarman Singh Sohi
Shuo Xiang
Steven Nguyen
Terna Charles Abeghe Jr.
Thomas McKeith
Thomas Tran
Tomas Martin Johnsgaard
Victor Adeodun Loyinmi
Xinnan Xie
Xue Wang
Yasin Isse
Yaxiong Wang
Yu Huang
Yue Weng
Yunfei Xiao
Master of Science (M.Sc.)
Abdul-Hammid Olalere Olagunju
Barbara Aburachid Rocha
Ellen Kathleen Redlick
Gazi Md. Hasnat Zahan
Hai-Dong Wang
Hamid Khodabandehloo
Jun Liu
Matthew James Waldner
Najia Manjur
Ronald Ernesto Rivera Carranza
Tewodros Wondifraw Ayalew
Doctor of Philosophy (Ph.D)
Katie Lyn Ovens
Najeeb Ullah Khan
Sara Hosseinzadeh Kassani

Featured Graduating Students
All of our graduates have stories worth celebrating but this year we have featured three in particular. Read on to learn about their achievements at Usask.
Keep In Touch Contest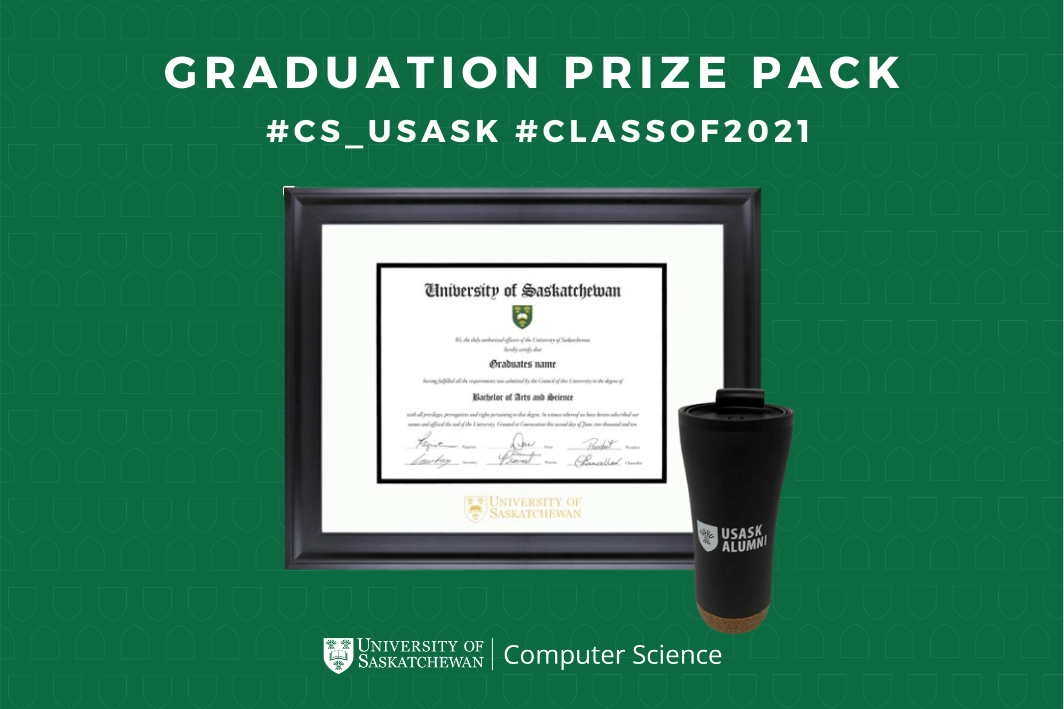 We're running a 'Keep In Touch' contest for all graduating students. The Class of 2021 is encouraged to fill out the survey linked below by June 15 for a chance to win a prize pack worth over $150! 
Prize: An official Usask degree frame and Usask Alumni coffee mug. 
Contest closes at 11:59pm CST on June 15
The winner must be a Spring 2021 graduate from the Department of Computer Science
The winner will be announced only after they've been contacted 
2020-2021 Scholarship and Award Recipients
Each year, the Department of Computer Science offers a collection of awards and scholarships to our students. These are awarded to undergraduate students, graduate students, and our teaching assistants.
Graduate Award Recipients
TA Of Excellence Award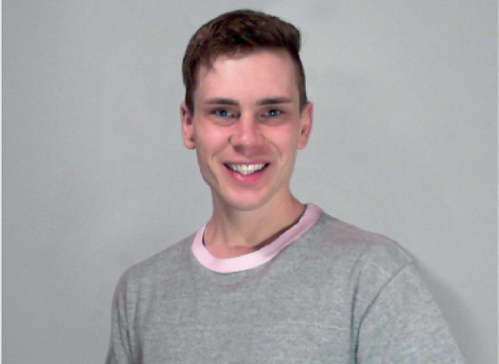 The TA of Excellence Award is given out annually to one teaching assistant (TA) who goes above and beyond to provide superb instruction and help to our students. This year's recipient is Matthew Miller for his work in CMPT 215. 
Student Success Stories
Our students have been busy! Take time to review some of our student news stories from the past year.