Thank you for your interest in supporting our programs and enhancing the students' academic experiences. If the following sponsorship opportunities do not meet your needs, we would be happy to work with you to develop a sponsorship that matches your goals.


The Student Experience
Ways to support our students and enhance their university experiences:
Provide prizes and takeaways for various student events that are organized for current and prospective students. Our aim is to encourage extracurricular learning on campus, and to engage youth to explore science and technology.
Share your experiences by speaking in classrooms, student conferences, or seminars. Other opportunities include leading specialized workshops, participating in programming contests, or providing mentorship in an entrepreneurial manner.
Sponsor a specific event or activity that matches your goals and values. 
Invite students to visit your company headquarters. This could be an open house, a presentation on professional development, or a demo of your current projects.
We are always open to new avenues to support our student programs and activities. If you have an idea, don't hesitate to contact us - we'd love to hear from you.
Contact our Outreach Coordinator to find out how you can get involved.
Support Success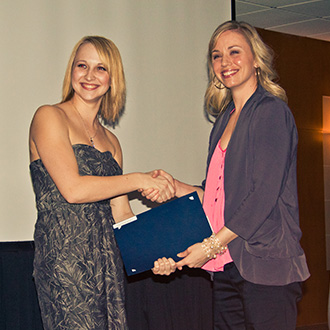 There's no denying that donations play a big part in attracting the highest caliber of students to our programs. Awards and scholarships positively affect a student's academic experience and encourage further engagement at the academic and professional levels.
Fund for Excellence
The Computer Science Fund for Excellence is a fund established in 1988 to pursue new initiatives that enhance the excellence of the Department's programs of study in a manner that complements, rather than replaces traditional sources of University funding. The Fund for Excellence was established as an advancement fund to be supported by the Department's Alumni.

Funds are typically used to support the following awards:
Alumni Award
Women in Computer Science Scholarship
A full description of these awards can be found under Awards and Scholarships on our webite.
Start Your Own Scholarship or Award
If you prefer, we invite you to start your own scholarship or award. Perhaps it can express your passion for academic enlightenment, your values in the community or your area of focus within the industry. Or maybe it will be a tribute to a beloved family member or colleague. Whatever the intent, it will be a welcome testament that our technology community is supportive of higher education and the pursuit of knowledge.
The Department of Computer Science follows the University of Saskatchewan regulations and procedures for donations. More information about donating at the U of S can be found at give.usask.ca

Please contact our Department Head to start a conversation on how you could get involved in sponsoring our students and programs.