Next stop: Regionals!
---
Next stop: Regionals! The University of Saskatchewan will be sending teams to complete at the Rocky Mountain Regional ACM Contest on November 14, 2015 in Edmonton, AB. 
The 2015 Rocky Mountain Regional Contest draws students from colleges and universities throughout Arizona, Utah, Colorado, Wyoming, Eastern Nevada, Idaho, Montana, Alberta, Saskatchewan, New Mexico. Winners selected from regional contests worldwide will advance to the ACM-ICPC World Finals to compete for bragging rights and scholarships.
Congratulations to all students who participated in the local ACM Programming Contest on Saturday, October 13 at the University of Saskatchewan. A total of 33 students came out on Thanksgiving weekend to claim the title of best problem solver. A BIG thank-you to our event sponsor Yardi, who continuously supports the programming contest every year.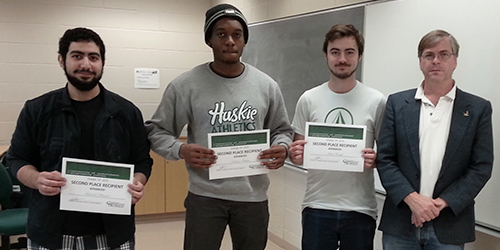 ---
Results
Advanced Category
First Place

Weston Carlson, Scott Olson, Mike Hoffert

Second Place

Mahomud Mahomud, Nobleman Chukwu, Austin Tarasoff

Third Place

Nick Gough, Gaurav Arora, Tushita Patel
Novice Category
First Place

Alexa Armitage, Tayab Soomro

Second Place

Daniel McCoshen, Agis Daniels, JiaWei Zang

Third Place

Siham Abdulla,h Chase Crawford, Gulzaib Fida