Unix Bootcamp
---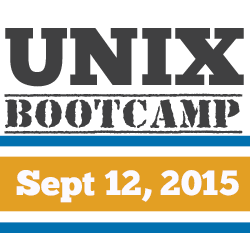 Every September when school begins, we offer a Unix Bootcamp for all students to help get back into the grind of Computer Science. If you think your Unix skills might be a bit rusty after these past summer months, then this bootcamp is for you. 
Date: Saturday, September 12, 2015
Location: 3rd floor Spinks, S320 and S311
Schedule
10:00 AM
Beginner Workshop
11:00 AM
Intermediate Workshop
12:00 PM
Pizza Lunch
1:00 PM

Advanced Workshop 

OR

Python Workshop (new)
Everyone is welcome to attend the workshops: students, staff and faculty.
Python Workshop: This session is meant for students who are already familiar with programming in general, but do not have any experience with the Python programming language. Python and it's core concepts will be introduced. Differences between Python and other languages such as C/C++ and Java will also be covered. If time permits, various interesting and useful applications with the Python language will be explored. 
Registration
Sign up early online or register on the day of the event in Spinks.  
$5.00/person for CSSS members
$10.00/person for non-members
...includes access to all workshops, pizza lunch, and a CSSS membership. The CSSS will be selling lockers for an additional charge. 
The Unix Bootcamp is organized by the Computer Science Students' Society (CSSS) and the Department of Computer Science.