Computer Science Dragon's Den
---

The Department of Computer Science offered a new course this year titled "Software Development for Mobile Devices," where students learned directly from industry experts on the complete development lifecycle of a mobile app, from ideation to publication. In lieu of their final exam, students pitched their mobile projects to a panel of industry entrepreneurs. The whole event mimicked the Dragon's Den television show, where entrepreneurs pitch their ideas to a panel of investors in hopes to attract funding.
Twelve groups of student teams presented clever and innovative mobile apps that they developed over just over a couple months. Panellists included successful Silicon Valley alumni Russell Muzzolini (Engineering Lead at Spire), Stephanie Yong (Director of Wilson Centre), and Katherine Regnier (founder of Coconut Calendar). 
An alumnus from the University of Saskatchewan, Russell Muzzolini, has worked closely with Department of Computer Science to develop and support the new mobile course for students. He is motivated to provide experiential learning opportunities for Computer Science students with an emphasis on entrepreneurship. Muzzolini currently leads the Spire global engineering teams spanning San Francisco, Singapore, and Glasgow. Started in 2012, Spire is a satellite-powered data company providing unprecedented weather, climate, and maritime data. Spire analytics incorporate proprietary sensor data fusion to tackle global problems such as drought, climate change, power consumption, and more. Previously, Muzzolini was the VP of Engineering at Shutterfly where he contributed to the growth of the company, which eventually evolved into a multi-billion dollar valued company. Muzzolini comes from a family of entrepreneurs in Saskatoon, including Christie's Bakery and Il Secondo restaurants.
Winning Teams
---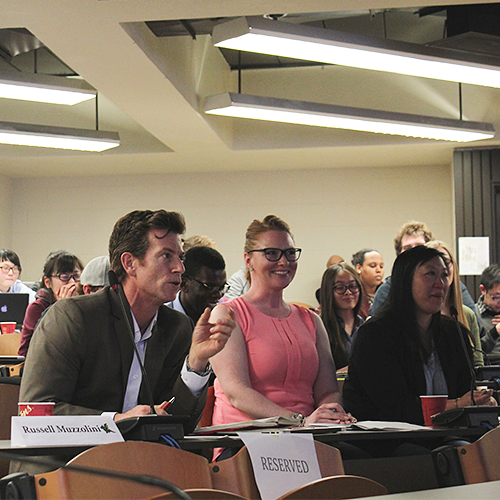 Get It Done (first place)
Emmanuel Boctor
George Nyame
Tianshu Zhao
Tap 2 Tap
Bo Dong
Graeme Judkins
Kent Walters
Math for Kids
Vishal Tomar
Bengin Lee
Shuo Yuan
Juanjuan Zhao
The top three teams, as deemed by the panellists, were invited to an exclusive party at Il Secondo the following day where students, instructors, industry guests, and university folk celebrated a successful term.
Check out more photos from the Computer Science Dragon's Den pitches and the after party on our Flickr page.