Home
Invited Speakers
Advance Program
About Quebec City
Registration
Accommodations
Call For Papers
Paper Formatting
Call for Posters
Electronic Submission


Submission Dates
Graphics Papers: November 21
HCI Papers: December 19
Posters: April 30


Conference: June 7-9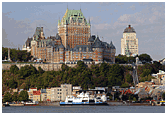 Call For Posters

Graphics Interface 2006 will take place in Quebec City, June 7th to 9th, 2006. GI2006 will be the 32nd Graphics Interface conference; it is the oldest continuously-scheduled conference in the field. It will take held in conjunction with the Computer and Robot Vision 2006 (CRV) and Artificial Intelligence 2006 (AI) conferences. A single registration will permit attendees to attend any talk in the three conferences (GI, AI, CRV), which will be scheduled in parallel tracks.
Poster submission deadline: April 30th, 2006

Topics of interest at GI include (but are not restricted to):
Shading and rendering
Geometric modeling and meshing
Graphics in simulation
Image-based rendering
Image synthesis and realism
Medical and scientific visualization
Computer animation
Real-time rendering
Non-photorealistic rendering

Interaction techniques
Computer-supported cooperative work
Human interface devices
Virtual reality
Augmented reality
Data and information visualization
Multimedia
Mobile computing
Haptic and tangible interfaces
How to Submit a Poster

The poster submission should include a 1 or 2 page extended abstract in conference format; you may also include a preliminary poster layout if you wish. Poster boards are normally 4'x4'. If you require more space (i.e. 4'x8'), please include a justification in a covering letter.

The preferred submission format is PDF. Please check before submitting other file formats. The preferred submission method is e-mail. Please send your submission as an email attachment to david.pinelle@usask.ca , with a subject of "GI2006 Poster Submission". The message body should contain the title of the poster and the contact information for the main author. Please contact the Poster chair if you have any questions or concerns.

Contact Information for Posters Chair

David Pinelle
Department of Computer Science
University of Saskatchewan
110 Science Place
Saskatoon, SK S7N 5C9
Tel: +1 306 966 2327
Fax: +1 306 966 4884
david.pinelle@usask.ca