Darwyn Peachey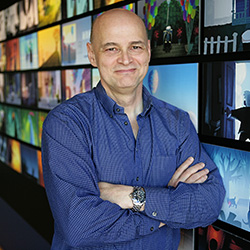 Born and raised in Saskatoon, Darwyn Peachey studied at the University of Saskatchewan and received B.Sc. and M.Sc. degrees in computer science.  In 1988 he moved to California to join Pixar Animation Studios, and he has been with the company ever since.  Peachey began his Pixar career as a software engineer developing key components of the RenderMan package, which is used to render images by many companies in the animation and visual effects industry.  He was one of the recipients of an Academy Award® from the Academy of Motion Picture Arts & Sciences for RenderMan.
Peachey has worked directly as a production technical artist on several Pixar feature films.  Most recently, he was the Global Technology Supervisor for Incredibles 2 (2018).  Previously he worked on Toy Story (1995), Ratatouille (2007), Toy Story 3 (2010), and Coco (2017), as well as the stereoscopic 3D versions of Toy Story and Toy Story 2.   He was the Supervising Technical Director of ten Cars and Toy Story short films produced at Pixar Canada in Vancouver, including "Air Mater" (2011), "Small Fry" (2011), and "Partysaurus Rex" (2012).  He was also the Supervising Technical Director of the Pixar short film "Sanjay's Super Team'' (2015) which was nominated for the Academy Award® for Best Animated Short Film.
In addition to working directly in film production, Peachey has also served as a software developer and technology manager in Pixar's software and IT departments.  He was Pixar's Director of Studio Tools, Vice President of Research and Development and Vice President of Technology during the period from 1996 to 2003 and led the development of film production software and IT infrastructure including Pixar's render farm.  He was also the Chief Technical Officer and a co-founder of Pixar Canada, a subsidiary that operated in Vancouver from 2009 to 2013.  At Pixar Canada, Peachey supervised the building of a standalone hardware and software pipeline capable of producing short films to meet Pixar's high quality standards, and helped to hire, train and lead the production crew and technical support departments. 
Peachey is a member of the Academy of Motion Picture Arts & Sciences, and the Visual Effects Society.
Byron Bashforth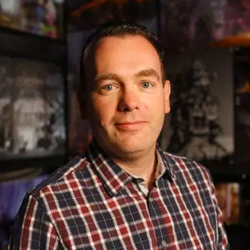 Byron Bashforth joined Pixar Animation Studios in June 1999 as a render technical director on "Toy Story 2." He has since worked as a shading technical director on several films such as "Monster, Inc.," "Finding Nemo," and Academy©-winning "Inside Out," "Brave," "Up," and "The Incredibles." Bashforth acted as a character shading lead on "Monsters University" and Oscar©- winning "Ratatouille," as well as the shading and paint lead on the short film "Lava." In addition, Bashforth was an integration engineer on "Finding Dory." Most recently, he was the character shading lead for Disney•Pixar's Oscar©- winning film, "Coco".
As the character shading lead, Bashforth helps manage and support the team of technical artists that create the look of all the characters in the film. Working with concept designs and the director's vision, the characters team authors simulated materials through a combination of software and digital paintings that describe how surfaces like skin, bones, hair, and clothing appear in the film. 
Raised in Saskatchewan, Canada, Bashforth earned a Masters of Science in Computer Science from the University of Saskatchewan. He currently resides in Marin County, CA. 
Nathaniel Osgood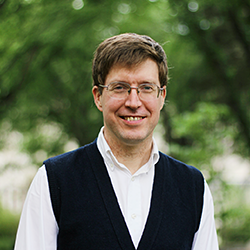 Nathaniel Osgood is a Professor in the Department of Computer Science and Associate Faculty in the Department of Community Health & Epidemiology at the University of Saskatchewan. His research is focused on providing cross-linked simulation, ubiquitous sensing, and machine learning tools to inform understanding of population health trends and health policy tradeoffs. His applications work has addressed challenges in the communicable, zoonotic, environmental, and chronic disease areas. Dr. Osgood is further the co-creator of two novel mobile sensor-based epidemiological monitoring systems, most recently the Google Android- and iPhone-based iEpi (now Ethica Health) mobile epidemiological monitoring systems.  He has additionally contributed innovations to improve dynamic modeling quality and efficiency, introduced novel techniques hybridizing multiple simulation approaches and simulation models with decision analysis tools, and which leverage such models using data gathered from wireless epidemiological monitoring systems.  Dr. Osgood has led many international courses in simulation modeling and health around the world, and his online videos on the subject attract thousands of views per month.  Prior to joining the U of S faculty, he graduated from MIT with a PhD in Computer Science in 1999, served as a Senior Lecturer at MIT and worked for a number of years in a variety of academic, consulting and industry positions.
Russ Muzzolini
When Russ Muzzolini paid for his ticket for Terminator 2 in 1991, he had no idea his life was about to change. "I was busy working at my family's small business and playing in bands when I started at the U of S. I wasn't sure what I wanted to do but programming seemed like a good skill to keep my options open. I was always interested in visual effects in movies and Terminator 2 sealed my future."
Russ received his Ph.D. in Computer Science from the University of Saskatchewan in 1996 and moved to Silicon Valley shortly after. His interest in visual effects deepened, and he worked for 3 years designing and developing specialized digital workflows for post-production companies in the movie industry. In 1999, he joined a consumer photo and ecommerce startup called Shutterfly. As a developer on the original engineering team, Russ grew with the company, taking on roles of increasing responsibility including Vice President of Engineering. During his decade long involvement with Shutterfly, the company grew to a multi-billion dollar industry, generating more than $1.2 billion in annual revenue. 
Since 2014, Russ has held senior level roles with a number of tech companies, including Spire Global Inc. and YourMechanic.  
Though Russ's career has taken him around the world, he has stayed connected to his Canadian roots. Russ is actively involved in the Department of Computer Science and spends time mentoring students and advising young Canadian entrepreneurs through Co.Labs and the C-100. 
Outside of work, Russ enjoys winemaking, playing music in bands, and working on cars, including a 1971 Pontiac GTO that was given to him by his father on his sixteenth birthday.
Julita Vassileva
A professor at the University of Saskatchewan, and Bulgarian native, Dr. Vassileva is a leading researcher in user modelling, personalization and social computing, as well as AI in Education. She has authored over 250 research papers in the areas of intelligent tutoring and recommender systems, user modeling and personalization, trust and reputation, persuasion and behavior change. She is a member of the editorial boards of several highly reputed journals, including User Modeling and User Adapted Interaction, IEEE Transactions of Learning Technologies, ACM Transactions on Social Computing, International Journal of AI in Education. Dr. Vassileva was elected in 2017 the Board of CS-CAN/CS-Info (the Canadian Computer Science Society), and serves as a Chair of the Research Committee. She has been awarded the Distinguished Graduate Supervisor Award by the University of Saskatchewan's College Of Graduate Studies and Research in 2014, the Advising Excellence Award by the University of Saskatchewan Graduate Student Association in 2013, and the Saskatoon's YWCA "Women of Distinction Award (Science and Research)" in 2015. Dr. Vassileva held the  NSERC/Cameco  Chair for Women in Science and Engineering for the Prairies region (2005 – 2011) and started a science outreach program for aboriginal youth in the North, called "Science Ambassadors", which has completed 10 years of impactful activity in over 25 communities and engaging over 25,000 indigenous youth with science.
Jordan Schidlowsky
Jordan Schidlowsky is a co-founder and current CEO of Noodlecake Studios, a video game development company. With over 6 billion Noodlecake games played on over 225 million devices, Jordan's vision and leadership has led Noodlecake Studios through a recent acquisition.
Daniel Simair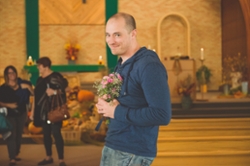 Daniel Simair grew up in the Prairies, entering the Computer Science program at the U of S in 1999. After a decade in enterprise software consulting, he left to start SkipTheDishes with his brothers to help people gain time through food delivery. They raised their first round of venture capital in 2015 and then in 2016 Skip was acquired by Just-Eat for over $200m. When Daniel left in 2018 to start a new venture, Skip had independently grown to become one of Canada's largest tech companies with nearly 2000 employees, 100 cities, and tens of thousands of couriers.
Jeff Dyck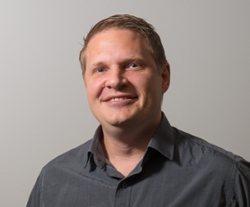 Jeff Dyck is a Director of Engineering at Mentor a Siemens Business, where he runs the Solido R&D team that was acquired by Mentor in December 2017. Previously at Solido, Jeff was VP of Technical Operations and was part of the executive team that built Solido into one of the fastest growing tech companies in North America. Jeff led Solido's R&D team, managed Solido's product lines, and co-invented many of Solido's machine learning and reinforcement learning technologies. Solido's products are mainstream chip desin tools that are used by thousands of circuit designers throughout most of the top-40 semiconductor companies.