Get Involved
When you're a student in Computer Science, you never have to be alone; that is, unless you really want to, but we don't recommend it. You will have more fun participating in one of the amazing organizations on campus or volunteering at a department or campus event.
Join a Student Group
Joining a student group on campus has many benefits. Student groups help you connect with other students on campus that share similar interests. Groups organize social events, manage fundraisers, create industry partnerships, and offer services to students. It's a great way to get involved and have a positive impact on your community.
The
CSSS
is a student run group that offers various services and events for Computer Science undergraduate students on campus. We encourage all students to purchase a membership!
What the CSSS offers:
Yearly memberships provide access to old exam files, locker sales, and discounted events.
A range of local events, such as Unix Bootcamp, LAN Parties, video game tournaments, board game nights, weekly lounge events, and much more!
The Computer Science Graduation Banquet
Various food, snacks, and beverages for sale.
You could even become a member of the executive group. These roles include: President, Vice-President, Secretary, First to Fourth Year Representatives, Athletics Director, Social Director, and Member-at-large. Voting for these positions take place during the CSSS Annual General Meetings in September and November.
Office: Spinks 338
The collegiality of our department is reflected in the high level of graduate student involvement and influence in its operation. The
Computer Science Graduate Course Council
or the "CSGCC" for short, is the organization constructed and operated by our graduate students to act on their behalf. The Council acts as the Computer Science Graduate Student's representatives to the University of Saskatchewan Graduate Student's Association (GSA). It provides communication between the GSA and the graduate students in the department. The CSGCC also takes on the task of maintaining a certain level of communication between the Department of Computer Science and the graduate student body that resides in it. The CSGCC has non-voting representatives that attend Graduate Committee meetings and Faculty meetings.
In addition, the CSGCC receives some funding from the University-wide GSA to carry out its operations. In return, the CSGCC organizes social events for the Department, such as welcoming activities for new graduate students and social gatherings throughout the year. The social events organized by the CSGCC include different sporting activities, games and outings to be enjoyed by the graduate students, faculty and staff. Finally, the Council assists and advises new students moving to the University of Saskatchewan.
All graduate students within the Department of Computer Science are by default a member of the CSGCC. No membership application or fees are required. Positions on the executive include: President, Vice-President of Finance, Vice-President of Internal/Webmaster, Social Representative, MSc Representative, PhD Representative, and a Faculty and Staff Liaison.
Computer Science on Campus
If you're looking to get more experience in Computer Science, you have come to the right spot. This is a one stop shop where students can browse different oportunities to get invoved within the Computer Science community on campus. The list is comprised of workshops, contests, student works, entrepreneurial initiatives, and graduation celebrations. Get the full Computer Science student experience and beef up your resume at the same time.
Computer Science Off Campus
The Computer Science community does not simply end at the edge of the campus. Saskatoon has an exciting and eventful technology community. Conferences, hackathons, workshops, clubs, and dinners are just the tip of the iceberg. By getting involved with off campus groups, students will have the opportunity to network and learn from the industry experts.
Volunteering in the Department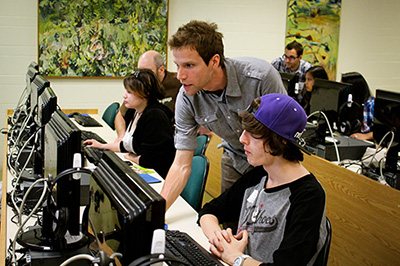 We need volunteers to help with a number of outreach events designed to generate interest in Computer Science with elementary, high school, and university students.
We are always on the lookout for volunteers to lead workshops, assist with workshops, give presentations, or help with setup and take down. The following are a few annual events where we need great volunteers like yourself:
Digitized
Computer Science Summer Camps
K-12 Workshops
For more information on how to volunteer, please email our
Outreach Coordinator
.